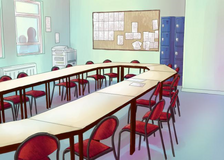 O Grêmio Estudantil é constituído por representantes de turma, que visam organizar documentos para novos alunos e possuem responsabilidades restritivas a eles em prol da escola Sweet Amoris, porém representando interesses dos estudantes do colégio. O grêmio está localizado na primeira sala à direita do corredor, e é a primeira sala a ser visitada do episódio 0 em diante.
Representantes de Turma
Edit
Este é o primeiro representante de turma possível de ser encontrado, logo no primeiro episódio.
Ela é a segunda e última representante de turma possível de ser encontrada, no quinto episódio.
Imagens do Grêmio Estudantil
Edit
Ad blocker interference detected!
Wikia is a free-to-use site that makes money from advertising. We have a modified experience for viewers using ad blockers

Wikia is not accessible if you've made further modifications. Remove the custom ad blocker rule(s) and the page will load as expected.