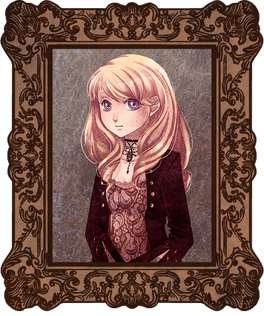 Mary Magdaleine é mencionada exclusivamente no episódio especial de Halloween 2011.
Aparência
Edit
Mary possui olhos violeta, cabelo louro de corte longo, pele branca e rosada.
Ela usa vestimentas do século 17, no estilo vitoriano.
História
Edit
Quando Mary ficou doente com a epidemia que atacou o vilarejo onde moravam, Dimitry saiu à procura de um remédio nos vilarejos vizinhos. O único modo que encontrou de salvá-la era transformando-a em uma vampira, pois estes são imortais. Como Mary Magdaleine estava muito cansada para viajar, Dimitry decidiu ir sozinho se deixar morder por um vampiro e, na volta, transformá-la. Mas já era tarde demais quando ele retornou, pois ela já havia falecido.
Relacionamentos
Edit
Mary Magdaleine possuia um casamento arranjado pelos pais com Dimitry até ela adoecer e morrer. Mesmo assim, possuía um bom relacionamento, e eles se amavam muito.
No lápide de Mary está escrito que ela nasceu em 1843 e faleceu em 1860 aos 17 anos.
Ad blocker interference detected!
Wikia is a free-to-use site that makes money from advertising. We have a modified experience for viewers using ad blockers

Wikia is not accessible if you've made further modifications. Remove the custom ad blocker rule(s) and the page will load as expected.