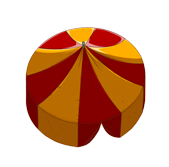 A tenda é o lugar destinado para eventos. Quando um evento está disponível, ela aparece com uma lona e quando não há um evento, a tenda fica só com sua armação. Passou a ser utilizada na atualização mais recente do mapa da cidade, no dia 28 de maio de 2015.[1]
Referências
Edit
Ad blocker interference detected!
Wikia is a free-to-use site that makes money from advertising. We have a modified experience for viewers using ad blockers

Wikia is not accessible if you've made further modifications. Remove the custom ad blocker rule(s) and the page will load as expected.